Obviously this might not be everyone's cup of tea, but while I've got the camera plugged in, I thought I'd show my latest piece of '80's exotica... a 1984 Porsche 944 Lux.
I'd planned to buy something else for the summer anyway just in case I fancied driving something rear-drive and other than a Mk2, but I wanted an Opel Monza or a Mk1 Cavalier Sportshatch. Good Monzas for fair money are hard to find now though. I nearly bought a nice 1980 Cav Sportshatch, a tidy 2000 GLS in white, but it fell through at the last minute. I happened to see this 944 for sale locally about a month ago. It was in the right place at the right time, so I bought it - a few weeks before Clarkson bought his (worse) one. It's the very first car I've ever bought which isn't a Vauxhall...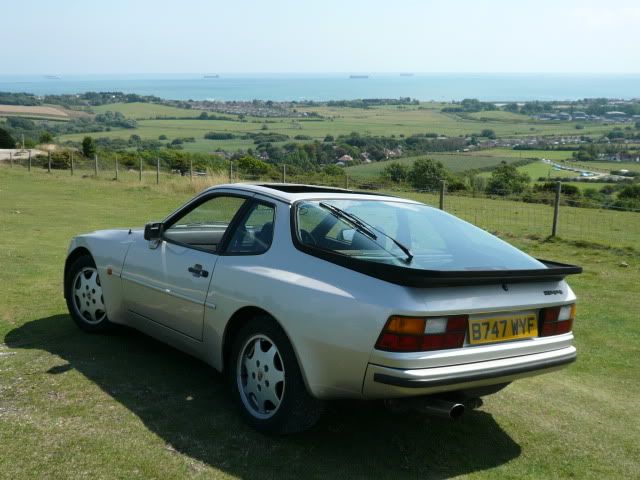 It was registered in August 1984 and has ONE previous lady owner from new! It's covered a genuine 83,000 miles and anyone who keeps their new car for a quarter of a century must've looked after it, and so it is with this one - serviced on the dot every year regardless of mileage, with a full Porsche stamped service history until 2006. These cars were galvanised so there's only one small bit of rust on a rear corner (a stonechip, I reckon), the rest of the bodywork and chassis are completely rot-free. It's totally original throughout apart from the wheels, even down to the radio, plates and taxdisc holder. The wheels are wrong - from a late 944 like Clarkson had last month - so I'm trying to find an original black and silver set. The originals look a bit like bigger versions of the SR's wheels, actually.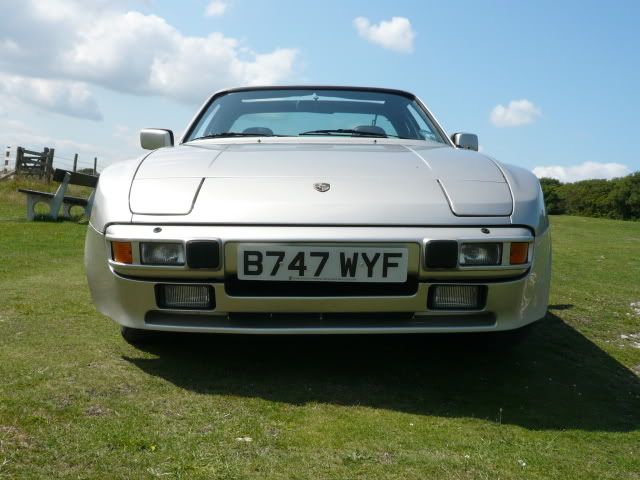 If there's one thing Vauxhall should've done in the 80s, it's pop-up headlights. They're just so COOL!
It's rear-wheel drive of course, but interestingly the gearbox is at the back, using a transaxle. The idea is to give the car an even weight distribution front and rear, by having the engine and 'box at opposite ends.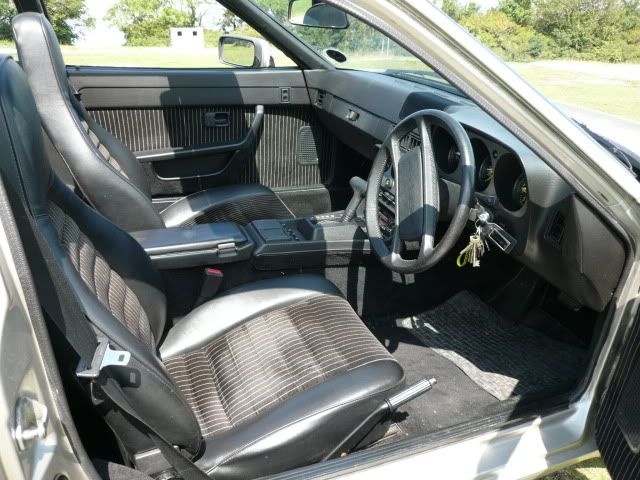 It's quite nice in here, even if the pinstripe upholstery is modelled on a merchant banker's suit circa 1983. The interior is mint, just needs a good clean. It's pretty well specced for an '84 car too - electric windows, electric heated mirrors, electric removeable roof panel, electric boot release, headlight washers, decent (in 1984) Panasonic radio cassette and leather wheel. You could have had air-con and cruise control too, but the original owner didn't shell out. No central locking interestingly, wasn't even an option...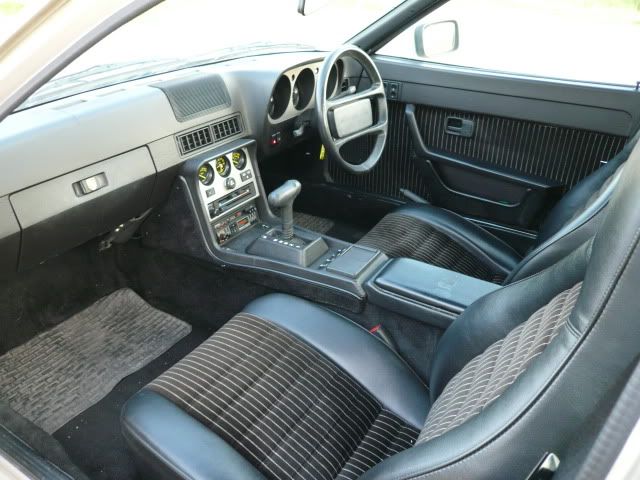 But what's that on the centre console? Surely not?
Yes, yes, alright, it's a bloody automatic. And stop laughing at my legs as well, dammit. A Porsche with an auto sounds like sacrilidge I know, but honestly, it's better than you might think. It's quick enough at changing and you can drop a cog any time by using the selector, the kickdown works well too. Think of it as less of a sports car and more of a comfortable GT for wafting to the south of France and you feel a bit better about it
I do love the quirky '70s dash though, with the yellow markings and upside-down rev counter. The ergonomics are crap (how can the headlight switch be obscured by both the wheel and the wiper stalk??) but you can forgive it that. The two seperate main-beam indicators look odd, but one is for the pop-ups and one is for the seperate driving lights...
The engine's worth a mention because it's quite unusual. It's a 2.5 litre 8 valve overhead cam with 163 bhp, but despite the size it's only a four-cylinder. It's basically half the 5-litre V8 engine found in the bigger 928, sharing the same cylinder head, valves and others. To give it the smoothness you'd expect from a car which would've cost fifty grand in today's money, it has engine mounts filled with antifreeze at pressure (I'm not making this up!) and a horribly complicated twin balancer shaft system. A pair of weighted shafts are mounted each side of the block, running at double the crankshaft speed and in the other direction, to smooth out the running. This is all operated by a frighteningly complex twin cambelts setup, one of which is double-sided
. But you know what? It's the smoothest four-pot I've ever driven, and at speed it really does feel like a straight-six. Weird, but it works. And thankfully the belts were replaced recently, which saves me that expensive job
So there you go. I took it to the Isle of Wight last week and it was great - not as fast as my GTE 16V, but still a lovely car to drive. The plan was to sell it for a quick buck come September, but...I kind-of like it. So maybe I'll keep it a little longer